2012 Program
Event #27
Anna Ottani Cavina, Tullio Pericoli
To think with one's hand
How does the hand move on paper or on canvas? What are its laws? What questions does it ansie? In a dialogue with A. Ottavi Cavina, Tullio Pericoli tells about his profession of painter and illustrator by starting from the creative gesture. What goes between the mind and the hand? "The paper and the canvas are two surfaces that become spaces as soon as a sign appears, and the sign, as soon as it is drawn on them, turns into a living thing", says Pericoli. "The artist's work", he adds, "resembles the work of someone who finds the right key to a door after many attempts, and opens it, but as soon as he crosses the threshold, he finds another door and yet another one. Gradually he realizes that there are countless doors to be opened. The same happens in painting. The artist's work is like a naive, childish attempt at discovering what lies past all those doors, but he knows that there will be no end to doors".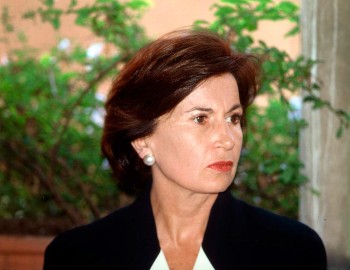 Anna Ottani Cavina
a long-time professor of Art history at the University of Bologna, and a visiting professor at Yale, Brown and Columbia University, is the creator and director of Fondazione Federico Zeri. She teaches at Johns Hopkins University SAIS Europe. Her books and exhibition catalogues include: Carlo Saraceni (1968), Il Settecento e l'antico (1982), I paesaggi della ragione (Einaudi, 1994), Felice Giani (1999), Paysages d'Italie (2001), Montagna, arte e scienza (2003), Geometries of Silence (2004), Granet, Roma e Parigi (2009), Federico Zeri, dietro l'immagine (2009), Terre senz'ombra (Adelphi, 2015). The French government has appointed her with the Légion d'honneur (2001) and the title of Officier des Arts et des Lettres (2011).
Tullio Pericoli
is a well-known painter and illustrator. He has held many personal exhibitions in Italian and foreign galleries and museums. His drawings are published on leading Italian and international media. As a scene designer, he has worked with the Opernhaus in Zurich and with Milan's Teatro alla Scala and Teatro Studio. His books include: Ritratti arbitrari (Einaudi, 1990); Colti nel segno (Mondadori, 1995); Terre (Rizzoli, 2000). Adelphi has published I ritratti (2002); Otto scrittori (2003); Robinson Crusoe (2007); Piccola Storia dell'arte dell'albero (2012).