2012 Program
Event #5
Giulia Lazzarini
WALL - before and after Basaglia
This touching performance by Renato Sarti (text and stage direction) tells the experience of a paramedic who by chance went to work at the Trieste psychiatric hospital.
Straitjackets, lobotomies, electroshocks… such were psychiatric hospitals before the introduction of the legislation named after Dr. Basaglia—isolated places where all sorts of violence and torture were perpetrated. Then things changed: the main task of hospital staff was no longer just keeping watch on the patients but listening and talking to them. This inevitably set off a strange dynamics where the boundary separating madness from sanity was exposed in all its precariousness. With her light touch and her surprising expressiveness, Giulia Lazzarini interprets on stage the nurse—a simple woman—who becomes aware of the human meaning, as well the scientific value, of the revolution brought about by that unusual doctor.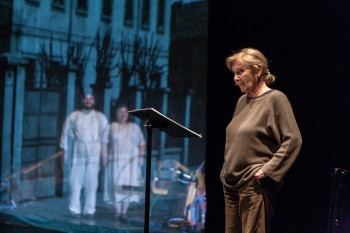 Giulia Lazzarini
is an actress from Milan. After training at the Experimental center for cinematography and following some experience in the field of cinema, she successfully landed in theatre. Since 1955 her name has been linked to Giorgio Strehler's Piccolo Theatre in Milan, where she gave life to characters that would enter into the annals of Italian thetre. Strehler had said about her: "Giulia belongs to those rare natural talents who, when they step onto a theatre stage and start to act, already know everything there is to know on theatrics. They were born to act. They are always acting, and acting well". Gorla fermata Gorla is a production of Teatro della Cooperativa (2017).