2013 Programme
EVENT #10
Massimo Cirri, Jonathan Coe
Sense of humour: a lifestyle
Laughter is a force that does not divide people but unites them. First and foremost, it is something that comforts us and helps create intimacy with other human beings. Jonathan Coe "grew up in a culture of irony. A culture where people never said exactly what was on their minds, but always hid their real intentions behind a layer of double meaning. It's a quintessentially British way of talking, thinking and writing, which is central to our humour, our politics, our family life and our literature. Sometimes I wish I could escape from it but I have to recognise that I am a product of irony, and it has inspired and informed all of my novels". What writer Jonathan Coe has in common with psychologist Massimo Cirri is the use of irony as a form of denunciation and a stimulus to reflection. A dialogue on sense of humour as a tool to analyze and interpret the world.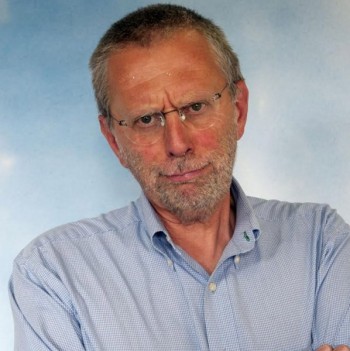 Massimo Cirri, a psychologist and a journalist, works in the mental division of the Italian National health service. He has been a TV author, he has created the RadioIncontri held at Riva del Garda, and since 1997 he has written txts and has presented Caterpillar, a Radio 2 show. He has written for theater with Lella Costa, and has been a contributor to Diario, Linus, Smemoranda, Tango and Playboy. His books include: Dialogo sullo -Spr+eco (with A. Segrè, Promo Music, 2010); A colloquio (2009) and Il tempo senza lavoro (2013), all published by Feltrinelli.
Jonathan Coe
studied in Cambridge and at the University of Warwick. Considered one of Great Britain's leading fiction writers, he has written three biographies (H. Bogart, J. Stewart and B.S. Johnson), two children's books (La storia di Gulliver raccontata da Jonathan Coe, L'Espresso, 2011; Lo specchio dei desideri, Feltrinelli, 2012) and a number of novels, including The rain before it falls, The terrible privacy of Maxwell Sim and others, all published in Italian by Feltrinelli. His latest book, Expo 58, will be published by the same press in August 2013.