2019 Programme
Event #23
Cesare Picco, Alessio Bertallot
Piano vs Groove
The story of the groove through the piano strings. Two explorers of sound, Cesare Picco and Alessio Bertallot, meet on stage for a special journey through the iconic pieces of the dj culture and to create a special encounter with the evocative power of the piano. The show ranges through fifty years of groove culture, passing through those iconic and famous songs known to the public. What is created is a new kaleidoscopic world of sounds, made alive and pulsating by the composition and improvisation in real time of the piano.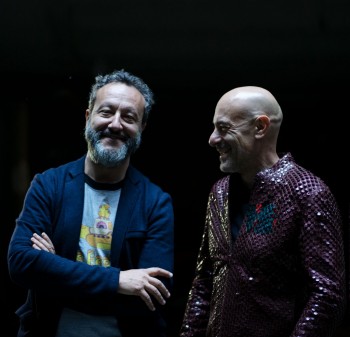 Cesare Picco, pianist, improviser and composer at ease among electronic beats as well as among the sounds of a baroque orchestra, has always been an explorer of new sounds and a transversal experimenter in every musical field. He is a composer for soloists and orchestras, including the Moscow State Symphony Orchestra, Berlin Chambers Soloists, and a creator of special projects related to the world of art. He is an Official Yamaha Artist.
Alessio Bertallot is a musician, dj, author, producer and presenter of radio and television programs, including B Side on Radio Deejay, RaiTunes on Radio2 and Casa Bertallot, one of the first online radio projects, made at his home (www.bertallot.com). An experimenter and connoisseur of electronic music, he has always been one of the most avant-garde characters on the Italian music scene.