2021 Programme
Event #4
Davide Enia, Giulio Barocchieri
may '43
An exciting theatrical show, written and performed by Davide Enia who tells the story of the spring of 1943 in Palermo, when the city suffered heavy bombing before the landing of the Allies. Accompanied by the music on stage by Giulio Barocchieri. Duration: 1h 40 '. Duration: 1h 40'.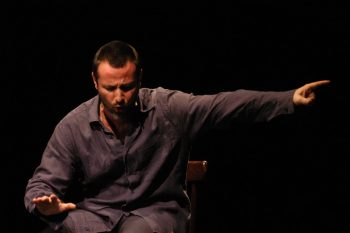 Davide Enia (Palermo, 1974) is a playwright, actor and writer, author and interpreter of Italia-Brasile 3 a 2 (published by Sellerio in 2010), Scanna, I capitoli dell'infanzia, L'abisso. For Radio Rai Due he wrote he radio-drama Rembò. He also published the novels Così in terra (Dalai, 2012) and Uomini e pecore (EDT, 2014), and with Sellerio maggio '43 (2013) and Appunti per un naufragio (2017).
Giulio Barocchieri is a musician from Palermo. He conferred a diploma in Pop Fusion guitar in 2003 at the Centro Professione Musica of Milan. From 2003 to 2006 he was the guitarist of Beati Paoli who worked with the Italian songwriters and singers Lucio Dalla and Claudio Baglioni. He has been touring with Davide Enia since 2004 - he composed all his musics.