2021 Program
Event #11
Malika Ayane, Matteo Nucci
I start again from here
What is the origin of a song that is destined to enter the memory, to vibrate in the body, to mark a period until it takes on a life of its own? Malika Ayane, an extraordinary musician and songwriter, takes us on a journey to the source of inspiration by talking to the writer and essayist Matteo Nucci and singing some of her songs.
Malika Ayane is a song-writer and singer from Milan. Firstly discovered by Caterina Caselli, she started her carreer with five participations to the Italian Festival of Sanremo, two "Mia Martini" Prizes, four Platinum cerifications and one Gold certification for her albums Malika Ayane, Grovigli, Ricreazione and Naif. On March 2021 her latest album Malifesto was released.
ph: Julian Hargreaves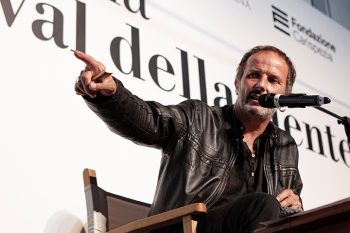 Matteo Nucci is author of novels, short stories, reportages and essays. He published the novels Sono comuni le cose degli amici (Ponte alle Grazie, 2009) and È giusto obbedire alla notte (Ponte alle Grazie, 2017) both finalist at Premio Strega, together with the novel-essay Il toro non sbaglia mai (Ponte alle Grazie, 2011) and L'abisso di Eros (Ponte alle Grazie, 2018). He translated the translation of Plato's Symposium (Einaudi, 2009) and the narrative essays Le lacrime degli eroi (Einaudi, 2013) and Achille e Odisseo. La ferocia e l'inganno (Einaudi, 2020). His short stories have been published in collections and magazines, and his reportages on Il Venerdì di Repubblica and L'Espresso and online on minima et moralia. He is editor of a taurine culture website: www.uominietori.it. In September his latest novel Sono difficili le cose belle will be published by HarperCollins.