2016 Programme
Event #34
Giacomo Rizzolatti, Antonio Gnoli
Mirror neurons: anatomy of a revolutionary discovery
The discovery of mirror neurons occurred almost by chance, by studying the motor system of a monkey. Giacomo Rizzolatti and his team allowed it to move freely, realizing that some of its neurons would activate both when it performed an action and when watching an experimentor carry out the same action: "mirror neurons". Some would call them the "empathy neurons". Why has this discovery – which revolutionized our idea of the human mind – fascinated not only scientists but also psychologists and philosophers? To what new concept of emotions and intelligenze, of thought and language, of nature and culture, of science and philosophy does it seem to lead us?
Antonio Gnoli
is a journalist for Repubblica, and was director of its Culture section. With Franco Volpi he is the author, among other works, of the books L'ultimo sciamano. Conversazioni su Heidegger (2006), I filosofi e la vita , (Bompiani); with S. Gennaro I corrotti e gli inetti. Conversazioni su Machiavelli (Bompiani, 2013). With Francesco De Gregori, Passo d'uomo (Laterza, 2016), with Giacomo Rizzolatti Nei tuoi panni (Rizzoli).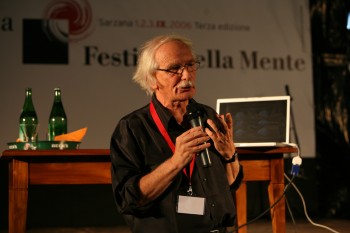 Giacomo Rizzolatti
directs the Department of Neuroscience at the University of Parma. A member of Accademia dei Lincei, his research has revolutionised the landscape of neuroscience in recent years. In 2014 he was awarded the Brain Prize, the most important international prize in the field of neurology. His books include: So quel che fai (with C. Sinigaglia, Cortina, 2006), Nella mente degli altri (with L. Vozza, Zanichelli, 2007), Nei tuoi panni. Per una nuova scienza dell'empatia (with A. Gnoli, Rizzoli).