2016 Programme
Event #3
Matteo Nucci, Valentina Carnelutti
The space of words: Helen and Odysseus
"Fair-tressed" Helen and Odysseus who "excels all men in wisdom" are the heroes of seduction. Charming, irresistible, they come across as models of persuasion in Homer's poems. Helen due to eros inducing her devastating beauty. Odysseus due to the cunning intelligence with which he is always able to circumvent obstacles and beguile his adversaries. Neither, however, would be what they are without their artistry with words. Evoking past moments, depicting an instant, relaying sensory perceptions through accounts. Like Homeric bards, they are narrators and cantors above all else. And their song is the life they've lived and witnessed. A life transformed into epos which is reserved for heroes after death, in a sort of literary eternity. For, at its essence, life is logos and mythos – that is, word. Readings by Valentina Carnelutti.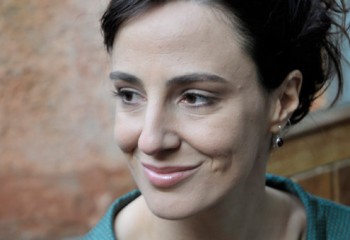 Valentina Carnelutti
actress and author, nominated this year for the Nastro d'Argento, has been directed by M. T. Giordana (La meglio gioventù), T. Angelopoulos (La polvere del tempo), P. Virzì (Tutta la vita davanti, La pazza gioia), C. Maselli (Le ombre rosse), A. Orlando (Sfiorarsi) and many others. She is the author of Sfiorarsi (A. Orlando) and of the film ReCuiem which she also directed. She also directed the documentary Melkam Zena in Ethiopia and the videoclip Le conseguenze dell'ingenuità.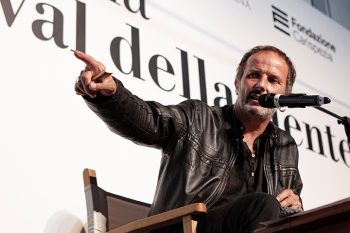 Matteo Nucci was born in Rome in 1970. With Ponte alle Grazie Publishers he published the novels Sono comuni le cose degli amici (2009, shortlisted at Strega Award), Il toro non sbaglia mai (2011), È giusto obbedire alla notte (2017, shortlisted at Strega Award) and the narrative-essay L'abisso di Eros (2018). He curated the new edition of Plato's Symposium (Einaudi, 2009) and the narrative-essays Le lacrime degli eroi (Einaudi, 2013), Achille e Odisseo. La ferocia e l'inganno (Einaudi, 2020), Il grido di Pan (Einaudi, 2023). With HarperCollins he published the novel Sono difficili le cose belle (2022). His short stories were published in magazines, anthologies and eBooks. He collaborates with Venerdì di Repubblica, Specchio by La Stampa and l'Espresso.