2017 Program
Event #63
Lastanzadigreta
Musica bambina!
workshop/ improvised concert
for kids and adults ages 6 to 99 120
120 minutes
60 participants
Using real and recycled instruments, electric guitars and rubbish bins, Lastanzadigreta presents a workshop that turns into a performance (or vice versa?) where participants – children and their parents – will be "orchestrated" and "directed" to arrange a concert for an improvised band and orchestra.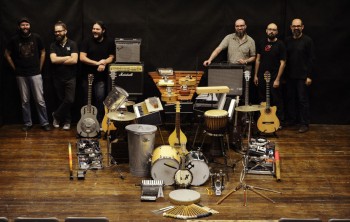 Lastanzadigreta
is a musical collective from Turin. They have been conducting a small musical revolution through the educational project atreArti JAM since 2011, and have recently created the Manifesto della musica bambina, the first attempt in Italy to promote a new repertoire of children's songs. Their first album, Creature selvagge (Sciopero Records/Self), came out in 2016.