2017 Programme
Event #31
B. Fantini, T. Pievani, S. Pimpinelli, F. Rufo
The code of life
It was 1866 when Gregor Mendel first published his research on the laws governing the transmission of hereditary traits from one generation to the next. The article went mostly unnoticed, to be rediscovered in 1900. An event which set off exceptional discoveries and the birth of new fields of research: genetics and molecular biology. The development of these sciences has allowed us to gain basic knowledge of the biological structures and functions of living beings, and opened up the possibility of manipulating the genome, one of the most extraordinary advancements in current research. The ability to act on the level of essential biological mechanisms marks the beginning of a new and delicate phase of knowledge, destined to cause changes in terms of concepts and culture and to spur crucial questions both in ethics and politics.
Bernardino Fantini
is professor emeritus in History of biomedical sciences at the University of Geneva.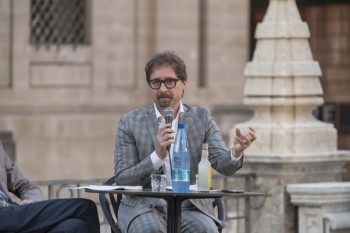 Telmo Pievani, science philosopher and evolutionist, essayist and communicator, holds Italy's first chair in Philosophy of biological sciences at the Department of Biology of the University of Padua. He is president of the Italian Society of Evolutionist Biology, member of the Italian Department of Anthropology and a contributor writer for Corriere della Sera, Le Scienze, Micromega e L'Indice dei Libri del Mese. He is author of several books including Introduzione a Darwin (2012) ,Laterza; La fine del mondo (2012) , il Mulino; Evoluti e abbandonati (2014) and Libertà di migrare (con V. Calzolaio, 2016), Einaudi; Come saremo (con L. De Biase, 2016) for Codice; La vita inaspettata (2011) and Imperfezione (2019), Cortina. By the end of August his new book La terra dopo di noi (with Frans Lanting) will be published by Contrasto.
Sergio Pimpinelli
is professor emeritus in Genetics at La Sapienza University.
Fabrizio Rufo
teaches bioethics at the faculty of Mathematical, physical and natural sciences of La Sapienza University in Rome.