2017 Programme
Event #4
Fabrizio Bosso, Julian Oliver Mazzariello
Tandem
Tandem means cycling together, to the same rhythm and with complicity. It is not a case that Tandem is also the name of the project by Fabrizio Bosso and Julian Oliver Mazzariello, who share a twenty-year friendship and a common passion for cross-genre experimentation. The duo's formula is so intimate and essential that, according to Bosso, «it allows even the most distant and difficult territories to be explored». And so every concert is different and new, changing in constant dialogue with the public and shared emotions, and featuring a lineup that mixes international songs and themes: from George Gershwin's Oh, Lady Be Good to Luiza by Antônio Carlos Jobim, from the Taxi Driver theme song to the duo's own original compositions.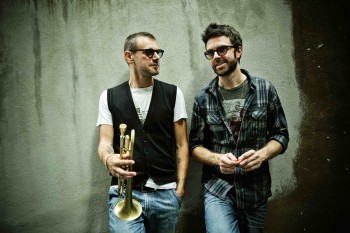 Fabrizio Bosso
began playing the trumpet at 5 years old and earned a degree from the Verdi Conservatory in Turin at 15. He has published many albums and collaborated both with jazz players (Enrico Pierannunzi, Carla Blay, Charlie Haden) and with quality Italian pop musicians (Sergio Cammariere, Raphael Gualazzi, Nina Zilli, Simona Molinari, with whom he performed at Festival di Sanremo, besides many others), as well as with great orchestras such as the London Symphony Orchestra.
Julian Oliver Mazzariello
was born in Hatfield, England. At the age of 8 he saw a Miles Davis concert that changed his life. Since then, thanks to an innate versatility he has always nurtured, he has collaborated with a variety of Italian artists, from Lucio Dalla to Enrico Rava. He took part in the birth of the High Five Quintet (where he first encountered and developed a friendship with Bosso). His past projects include Profile and the album Tandem, published with Bosso.