2017 Program
Event #37
Matteo Nucci, Valentina Carnelutti
The net of Eros. Reconquering
The passage through the erotic net is what the Greeks called poros, that is, the ford, the channel, the expedient, the resource. Sailing across the sea again, Helen and Menelaus finally find peace in the home they once had lost, reuniting in a romance that seems to be fueled by the desires of reason. It's within an eros made of words and persuasion that Hera find Zeus after his uncountable betrayals. The expedient, the passage for escaping the net or freeing it and bringing it to life is the mark of perfect reunion. Poros is father to Eros, according to a myth told by Plato. And indeed, the great philosopher held that it is only when eros has travelled the entire body, from sensual desires to those glorious and filled with rage, eros itself and the soul in which it flows are finally capable of liberating their immense cognitive power.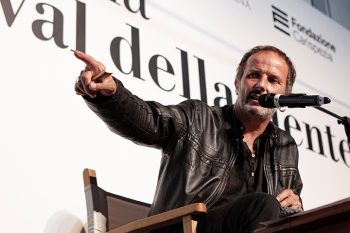 Matteo Nucci is author of novels, short stories, reportages and essays. He published the novels Sono comuni le cose degli amici (Ponte alle Grazie, 2009) and È giusto obbedire alla notte (Ponte alle Grazie, 2017) both finalist at Premio Strega, together with the novel-essay Il toro non sbaglia mai (Ponte alle Grazie, 2011) and L'abisso di Eros (Ponte alle Grazie, 2018). He translated the translation of Plato's Symposium (Einaudi, 2009) and the narrative essays Le lacrime degli eroi (Einaudi, 2013) and Achille e Odisseo. La ferocia e l'inganno (Einaudi, 2020). His short stories have been published in collections and magazines, and his reportages on Il Venerdì di Repubblica and L'Espresso and online on minima et moralia. He is editor of a taurine culture website: www.uominietori.it. In September his latest novel Sono difficili le cose belle will be published by HarperCollins.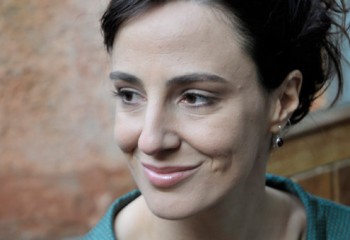 Valentina Carnelutti
actress and author, nominated this year for the Nastro d'Argento, has been directed by M. T. Giordana (La meglio gioventù), T. Angelopoulos (La polvere del tempo), P. Virzì (Tutta la vita davanti, La pazza gioia), C. Maselli (Le ombre rosse), A. Orlando (Sfiorarsi) and many others. She is the author of Sfiorarsi (A. Orlando) and of the film ReCuiem which she also directed. She also directed the documentary Melkam Zena in Ethiopia and the videoclip Le conseguenze dell'ingenuità.