2017 Programme
Event #39
Centro Formazione Supereroi
Neverending stories. A challenge in literary improvisation
A ring, two teams, a referee, two coaches, one jury. An exciting writing challenge in three rounds, during which competitors will face off in a public match of literary improv. Two teams from the Parentucelli high school in Sarzana (one from the classical study course and one from the scientific course) challenge each other through creativity, fresh ideas and mastery of writing techniques guided by coaches Francesco Gungui and Leonardo Patrignani, writers and Superhero Trainers. Drawing from the world of surrealist games and the Oulipo, crossed with treasures hidden across the web, this unique match reveals the intelligently playful side of writing in a public, spectacular and fun event conducted by Edoardo Brugnatelli of Centro Formazione Supereroi.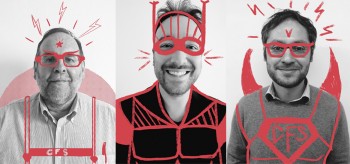 Centro Formazione Supereroi
The volunteers of the Centro Formazione Supereroi (Superhero Training Center) are writers, editors and professionals from the world of publishing who believe that the exercise of applying creativity to writing has the power to improve our ability of "reading" the world, articulating our experiences and communicating them, with the result of instilling confidence in each student's individual strengths. Inspired by the 826 Valencia project created by writer Dave Eggers, the CFS is a non-profit association born in Milan in 2016 that aims to support middle and high school students' approach to expressive creation and writing by assisting teachers in their everyday activities. The CFS conducts free workshops in schools tailored for specific projects and designed to facilitate the task of bringing joy to something serious.