2018 Program
Event #39
Alessandro Barbero
World War One. From the battles of the Piave River to Vittorio Veneto.
Prezzolini stated that «Caporetto was a victory, and the battle at Vittorio Veneto a defeat for Italy, because it is by resisting tragedy and atoning for our sins that we become greater, while using lies to brag and resurrecting negative instincts simply for winning makes us smaller». One hundred years after the Battle of the River Piave and the Battle of Vittorio Veneto, we will analyze the significance of the few months during which a defeated, invaded country – where the people's sense of belonging to the national community had suddenly been reinforced by effect of their shared humiliation – turned into a victorious, invading country, disdainfully dismissing the rights of others.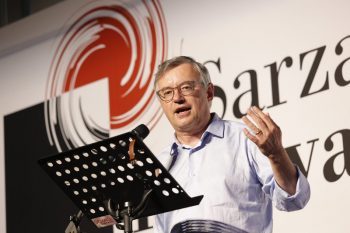 Alessandro Barberois a historian and a writer and a tenured professor of Medieval History at Università degli Studi del Piemonte Orientale e Vercelli. He writes for La Stampa and Tuttolibri. He is a contributor on the television program Superquark and the shows Il tempo e la storia and a.C.d.C., broadcast by Rai Storia. His publications include: Benedette guerre. Crociate e jihad («i Libri del Festival della Mente», 2009), Lepanto. La battaglia dei tre imperi («i Libri del Festival della Mente», 2010), Donne, madonne, mercanti e cavalieri. Sei storie medievali («i Libri del Festival della Mente», 2013), published by Laterza; Gli occhi di Venezia (Mondadori, 2011); Il divano di Istanbul (Sellerio, 2011); Dietro le quinte della Storia. La vita quotidiana attraverso il tempo, written with P. Angela (Rizzoli, 2012); Le Ateniesi (Mondadori, 2015); Costantino il vincitore (Salerno Editrice, 2016); Le parole del papa (2016) and Caporetto (2017), published by Laterza. Il divano di Istanbul (2011), Alabama (2021) and Poeta al comando (2022), published by Sellerio.