2022 Programme
Event #23
Matteo Nucci
Movement and soul: Sappho and Kavafis
"You will not discover the limits of the soul by wandering, even if you travel every way, so deep is its logos" wrote Heraclitus. However, maybe only poets can explore the mystery of logos – the word which measures and reveals. In ancient times, the perfect example comes from a woman with a tormented life whose name shines beyond time: Sappho. The verses she dedicated to lived or lost loves shed light on the movements that run through our souls like a breath. Psyché, after all, means "breath". We can also find breath through the verses of the greatest Greek-language poet of the 20th century: Constantine Kavafis. In his erotic lyrics as well as in his historical ones, the journey to the borders of the soul is constant. And the place where it stops is a dimension beyond space and time. For only in the soul we – as mortal human beings – can rediscover ourselves eternal.
*Booking fee required by the sales channel.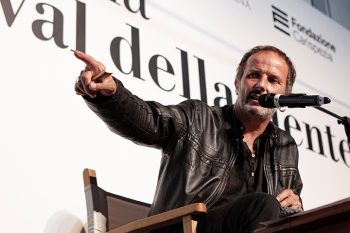 Matteo Nucci was born in Rome in 1970. With Ponte alle Grazie Publishers he published the novels Sono comuni le cose degli amici (2009, shortlisted at Strega Award), Il toro non sbaglia mai (2011), È giusto obbedire alla notte (2017, shortlisted at Strega Award) and the narrative-essay L'abisso di Eros (2018). He curated the new edition of Plato's Symposium (Einaudi, 2009) and the narrative-essays Le lacrime degli eroi (Einaudi, 2013), Achille e Odisseo. La ferocia e l'inganno (Einaudi, 2020), Il grido di Pan (Einaudi, 2023). With HarperCollins he published the novel Sono difficili le cose belle (2022). His short stories were published in magazines, anthologies and eBooks. He collaborates with Venerdì di Repubblica, Specchio by La Stampa and l'Espresso.