2022 Programme
Event #25
Alessandro Barbero
Life and fate: Iosif Brodskij
Throughout his life, Iosif Brodskij – winner of the Nobel Prize for Literature in 1987, "a Jew, Russian poet, English essayist and American citizen" as he described himself – proclaimed the poet's right to concern himself exclusively with his art, ignoring politics, social commitment, and the message. Yet his poetry is a merciless critique of the Soviet Union's decline and the West's soullessness. Decades later, he has something prescient to say even about the tragedy of the war in Ukraine.
*Booking fee required by the sales channel.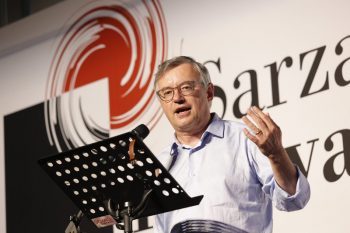 Alessandro Barbero is a historian and a writer and a tenured professor of Medieval History at Università degli Studi del Piemonte Orientale e Vercelli. He writes for La Stampa and Tuttolibri. He is a contributor on the television program Superquark and the shows Il tempo e la storia and a.C.d.C., broadcast by Rai Storia. His publications include: Benedette guerre. Crociate e jihad («i Libri del Festival della Mente», 2009), Lepanto. La battaglia dei tre imperi («i Libri del Festival della Mente», 2010), Donne, madonne, mercanti e cavalieri. Sei storie medievali («i Libri del Festival della Mente», 2013), published by Laterza; Gli occhi di Venezia (Mondadori, 2011); Il divano di Istanbul (Sellerio, 2011); Dietro le quinte della Storia. La vita quotidiana attraverso il tempo, written with P. Angela (Rizzoli, 2012); Le Ateniesi (Mondadori, 2015); Costantino il vincitore (Salerno Editrice, 2016); Le parole del papa (2016) and Caporetto (2017), published by Laterza. Il divano di Istanbul (2011), Alabama (2021) and Poeta al comando (2022) and Brick for stone (2023), published by Sellerio.