2022 Programme
Event #5
Matteo Nucci
Movement and space: Homer and Hemingway
In the most ancient models of our literature, the Homeric poems, human movement is described meticulously, in detail, and fills every page: Era seducing Zeus; Achilles discovering the death of Patroclus; Elena sitting next to her found husband. Everything is movement in space. Yet the center of this movement – the protagonists' soul – is veiled by a silence full of promises. The attitude of the most imitated American writer of the 20th century, Ernest Hemingway, is identical. In his stylistic revolution, from short stories to his masterpiece The Old Man and the Sea, the movement of the protagonists is at the very center of his works, while the core of the story is omitted. Just like Homer, Hemingway knows that this is the only way that we, the readers, will be able to discover the strength hidden in the gestures that we repeat every day, without even realizing it.
*Booking fee required by the sales channel.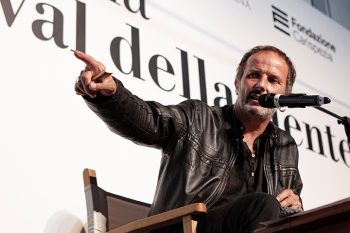 Matteo Nucci was born in Rome in 1970. With Ponte alle Grazie Publishers he published the novels Sono comuni le cose degli amici (2009, shortlisted at Strega Award), Il toro non sbaglia mai (2011), È giusto obbedire alla notte (2017, shortlisted at Strega Award) and the narrative-essay L'abisso di Eros (2018). He curated the new edition of Plato's Symposium (Einaudi, 2009) and the narrative-essays Le lacrime degli eroi (Einaudi, 2013), Achille e Odisseo. La ferocia e l'inganno (Einaudi, 2020), Il grido di Pan (Einaudi, 2023). With HarperCollins he published the novel Sono difficili le cose belle (2022). His short stories were published in magazines, anthologies and eBooks. He collaborates with Venerdì di Repubblica, Specchio by La Stampa and l'Espresso.