2022 Programme
Event #36
Workshop ages 8-12 – 60 minutes; 20 participants
The adventures of this workshop start with the creation of characters: funny, serious, good or very bad – everyone wants to be a star! Then we will discover the secret ingredients to invent stories, using the language of comics and the tricks to create movement through the pages.
*Booking fee required by the sales channel.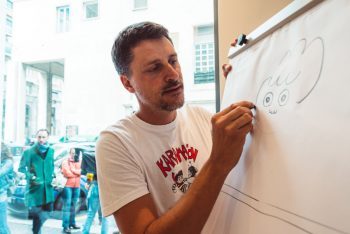 Gud
Gud is an author of graphic novels for primary school children. He has been teaching since 2001 and his courses involve adults and children in creative workshops. Here some titles published for the publishing house Tunué: La notte dei giocattoli (2012), Jo e i tre cappottini (2019), the series dedicated to Timoty Top and the manuals Tutti possono fare fumetti (2013) and Come creare fumetti (2022). He also illustrated the series Le quindici domande (Il Castoro).