2022 Programme
Event #3
Alessandro Barbero
Life and fate: Mikhail Bulgakov
Russia had an extremely tragic history during the 19th century but, at the same time, it is a country that gave voice to the greatest poets and writers who reached immeasurable artistic heights despite living in appalling conditions. More than in any other country, the life of the great writers of Russian literature is intertwined with the history of their homeland – a matter of interest both for the historians and for the critics. The first lesson of this series is dedicated to Mikhail Bulgakov, author of one of the immortal masterpieces of the 20th century, The Master and Margarita.
*Booking fee required by the sales channel.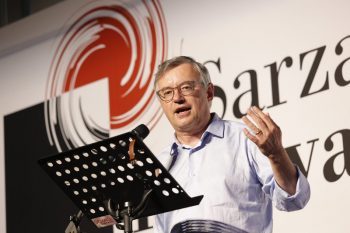 Alessandro Barbero is a historian and a writer and a tenured professor of Medieval History at Università degli Studi del Piemonte Orientale e Vercelli. He writes for La Stampa and Tuttolibri. He is a contributor on the television program Superquark and the shows Il tempo e la storia and a.C.d.C., broadcast by Rai Storia. His publications include: Benedette guerre. Crociate e jihad («i Libri del Festival della Mente», 2009), Lepanto. La battaglia dei tre imperi («i Libri del Festival della Mente», 2010), Donne, madonne, mercanti e cavalieri. Sei storie medievali («i Libri del Festival della Mente», 2013), published by Laterza; Gli occhi di Venezia (Mondadori, 2011); Il divano di Istanbul (Sellerio, 2011); Dietro le quinte della Storia. La vita quotidiana attraverso il tempo, written with P. Angela (Rizzoli, 2012); Le Ateniesi (Mondadori, 2015); Costantino il vincitore (Salerno Editrice, 2016); Le parole del papa (2016) and Caporetto (2017), published by Laterza. Il divano di Istanbul (2011), Alabama (2021) and Poeta al comando (2022) and Brick for stone (2023), published by Sellerio.